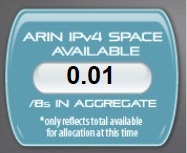 This has been a long time coming, but looking at the available addresses in the ARIN IPv4 free pool today, you can see that there are just a few specs of IPv4 addresses available.
While many of our predictions on when this day would come have been very wrong.  It can only be a matter of days now before some organization will not receive the block they would have normally received.
I would expect to see ARIN's announcement either tomorrow (Friday June 26th, 2015) or early next week that the first organization which met the needs test and qualified for a specific sized block did not receive it because there wasn't a block large enough in the pool.